Justin Bieber has reportedly described President Barack Obama and his family as "really nice".
The 'Baby' star joined the First Family and celebrities including the cast of Glee for the White House's annual Easter Egg roll yesterday.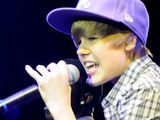 Writing on his Twitter account, Bieber said: "I got to go into the White House and get a tour and a pic with the First Family. They are really nice and had a lot of fun."
The 16-year-old, who sang at the event, added: "Thanks to everyone who came out today… it was a pretty incredible experience and I am grateful for the honour. Thanks to all the fans."
Other stars in attendance included NFL players, J K Rowling and Reese Witherspoon.