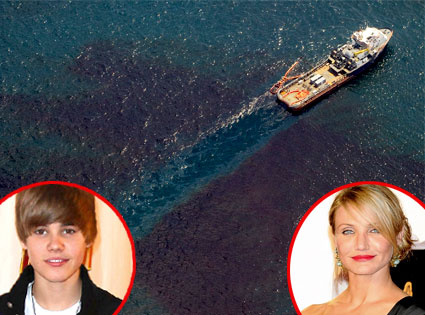 Somebody's gotta come to the rescue and it might as well be Tinseltown.
Cameron Diaz, Kathy Griffin, E!'s very own Ryan Seacrest and Chelsea Handler and teen wunderkind Justin Bieber are among the stars set to join CNN's Larry King for a special Larry King Live Telethon Monday night benefiting those left devastated by the Deepwater Horizon oil spill.
Dubbed "Disaster in the Gulf: How You Can Help," the fundraiser will feature guests appearing either live or via satellite. Other celebs include American Idol's Randy Jackson, Ted Danson, Lenny Kravitz, Jenny McCarthy, Tim McGraw, Alyssa Milano, Robert Redford, Ian Somerhalder, Edward James Olmos, Melania and Ivanka Trump, Victoria Principal and Pete Wentz.
Addtionally there will be a special performance by Sting while Seacrest will host a special Online "Social Suite" for those viewers participating via Facebook and Twitter.
Money raised from the telethon will benefit the United Way, the National Wildlife Federation and the Nature Conservancy, relief organizations that are at the forefront helping families, individuals and wildlife affected by the gusher.
EONLINE